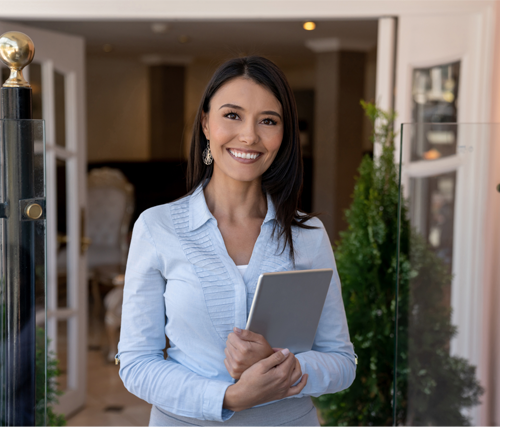 Augment your degree with real-world hospitality experience and launch your livelihood to the next level.
What is a Manager in Training?
Becoming a Manager in Training is a powerful first step in one of the fastest-growing industries in America. Our MTP is an 18-month, hands-on training program designed for recent college graduates who aspire to move into entry-level management positions within the hospitality industry. Through this extensive and rigorous program, you'll gain industry experience from the ground up.
Participants in our MTP program develop an in-depth knowledge of multiple areas within hospitality, resulting in well-rounded candidates proficient in various roles:
Front-of-House

Back-of-House

Food & Beverage

Culinary
How it Works
Our MTP primes recent college graduates for attractive positions within the hospitality industry. Participants will receive a salary as they serve at one of our reputable partner properties. As a Manager in Training, you'll receive guidance from esteemed industry leaders and undergo life-changing professional development. And some of our partner properties provide low- or even no-cost housing to MTP participants!
Questions? Email them to: [email protected]
What Industry Leaders and Former MTP Alumni Are Saying
"After graduating from Robert Morris University with a degree in Marketing & Hospitality, I was ready to start my hospitality career but had no clear direction on what area I was best suited for. After landing a position in the AHTA Manager Training Program, I quickly learned on-the-job skills crucial for success in this industry. I can't say enough about this hands-on program and how it prepared me for the future. The experience I gained earned me an Operations Manager position where I felt confident that I had the tools to excel."

Dan Zimmer

General Manager, Hotel on North
"I joined the American Hospitality Talent Acquisition (AHTA) Manager Training Program (MTP) after graduating from Johnson and Wales with a BS in Food Service Management. It was soon evident that the MTP was essential to preparing me for success in the hospitality industry. After the program, I was thrilled by an offer for a restaurant manager position! I would recommend the AHTA MTP for anyone looking to fast-track their career after earning a hospitality or culinary degree."

Steven Ouellette

Director of Sales & Events, Berry Hills Resort
"Once I earned my BS in Hospitality Administration/ Management from James Madison University, I felt academically accomplished, but realized I was at the starting line for my career! After landing a position in the AHTA Manager Training Program, I immediately began assembling a robust and practicable skill set that would ultimately help me outshine the competition. The experience I gained in the MTP rounded out my résumé and was the catalyst I needed to launch my hospitality career."

Rebecca Grace

Hotel Manager
"The struggle of hiring seasonal, talented hospitality professionals negatively affected our guest satisfaction. Also, the remote nature of our destination resort hampered our efforts to build our manager bench strength. Becoming a member of the American Hospitality Talent Acquisition eliminated our two biggest HR challenges. The quality of candidates available for peak season coupled with our ability to train each candidate from entry-level to manager was a game-changer in our quest to provide legendary guest service. Being able to properly staff all positions improved our associate satisfaction, lowered our overtime expense, and increased our guest spend/revenue. This program quickly became the most valuable and important tool in our HR toolbox!"

Robert Mickey

Vice President of Guest Relations, The Greenbrier
Working with AHTA was a remarkable and compelling experience. As a Hospitality graduate during the COVID-19 pandemic, I was unsure of when and where my career would begin. They made the job searching process much easier by giving me the opportunity to quickly take that next step into starting my career. Because of AHTA, they helped me feel hopeful and excited again to dive into my future!

Renee Bourgeois

Salish Lodge & Spa
I am grateful for AHTA reaching out to me on LinkedIn regarding a Manager in Training program. When I had first got word that they had a position in California, I was hesitant to move across the country by myself. However, after speaking with both Mark and David Fink, CEO at Mirabel, I knew this was a dream come true. Had it not been for AHTA, I would not be getting the crucial experience I need to succeed and grow as a manager. Every day is a new lesson and everyone I work with has been building me up tremendously. I will forever be indebted to Mark and the entire team at AHTA for pushing me out of my comfort zone to further my knowledge in the forever growing hospitality industry.

Sarah Mekkawi

Mirabel Hotel & Restaurant Group
After a lot of help from AHTA's team, I've joined a wonderful property today - I am officially part of The Hershey Lodge family! I am so honored to be a part of the team. I'd like to say thank you to Mr. Mark Hager from the American Hospitality Talent Acquisition team, who was so helpful and reassuring. Any new or upcoming hospitality graduates should seriously consider inquiring about AHTA's Management Program. The opportunity is one any grad will truly thrive from. Thank you for the opportunity, and I look forward to making everyone involved in the process proud.

Alexandra Ramos

The Hershey Lodge